Who is Sage Robbins? and why Tony Robbins married her?
Every man needs a woman to complete him. Yes, that true! It was no different for our beloved Anthony Robbins also known as Tony whom we may as well call the father of personal coaching. Tony is well-renowned for being a one-of-a-kind motivational speaker and an author of famous self-help books such as 'Money: Master the Game', 'Unshakeable', 'Unlimited Power', and 'Awaken the Giant Within'. In addition to this, he is a very successful businessman and a philanthropist.
One may argue that winning a marriage was not a Tony Robbins thing in the case of Becky Robbins, Tony's ex-wife, but this article presents a wonder list that could justify his position.
Starting a New Life
After having held onto his marriage for as long as he could, Tony finally let go. Eventually in 1998, after a lot of soul-searching and figuring out what's best for everyone including his children, Tony divorced Becky and gave himself the opportunity to find his true companion.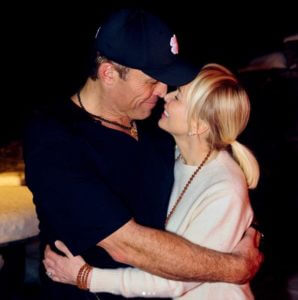 About Sage Robbins:
46-years-old Sage Robbins, an acupuncturist and a phlebotomist by profession was a career-oriented self-driven woman. She also did some acting and played a minor role in a movie called Shallow Hal (2001).
She was separated from her first husband by the time she met Tony at one of his seminars in 1999 and they began to date the following year. They hit it off immediately and soon knew that they were destined for each other. Hence, in 2001 they tied the knot. This was the beginning of a very fruitful partnership which in particular made Tony a different man altogether.
Now that Sage Robbins is pregnant. Numerologists have already predicted the gender of Sage Robbin's expected child.
Tony's 9 Reasons for Marrying Sage Robbins:
The marriage turned out to be a very good decision for the following nine reasons:
Tony was not happy with his previous marriage and needed someone who had a vision similar to his, who understood him better and helped him get the peace of mind that he for so long desired. In a sense, Tony felt that he was becoming less ambitious by being with his former wide and needed someone with the similar values and goals in his life so that he can remain on his track. Sage was the perfect partner he could have asked for.
Tony was a better person when he was around Sage and she had a positive effect on him which showed in his professional as well as personal career. Be it doing humanitarian work for the impoverished and poor or helping people develop, Tony always got encouragement from his spouse and that pushed him to set the goals posts far and wide each time he achieved what he had set out to do so. This meant that Tony was achieving one feat after another, yet he was determined to keep on going.
They were both deeply in love with each other and the negative publicity, as well as the lawsuit from Sage's ex-husband and news of Tony Robbins affair, did little to adversely affect them. Instead, it strengthened their bond and made them stronger as a couple. Their affection for each other, as well as friendship, meant that they could tackle all the challenges that life could throw at them by being together.
Sage helped Tony replenish the mental resources that he needed to help the millions of people who required someone to guide them in their lives. She also helped him find the perfect balance between his personal and professional life.
Sage provided Tony with the much-needed emotional support and a sense of personal strength by being at his side at all times even when he was traveling and also in his seminars. By being with Sage, he felt comfortable and at home. This enabled him to carry on ruthlessly in his professional career.
Sage and Tony quite enjoyed each other's company and are very happy together. The marriage provided stability to Tony and he became content which was essential for him to accomplish the big goals that he had.
Tony could very effectively communicate with Sage and they could very easily talk with each other about all the issues and come to a solution together.
Sage was the ideal mother who could be in charge of the entire family while Tony could focus on his work. Even though they didn't have kids themselves but each of them had kids from their previous marriages. Tony Robbins kids and Sage Robbins children formed a complete family which Sage managed perfectly. Sage treated Tony Robbins daughter as well as sons like her own and that depicts her qualities not just as a mother but as an amazing human being too.
There was trust as well as honesty in their relationship. Neither had to justify any of their action nor did they ever felt the need to ask questions or inquire about anything from one another. They were truthful with one another and that eliminated all the negativity in their lives.
What does Sage mean to Tony?
Such is the importance of Sage in his life that Tony said, "If I look at my life and say, 'What would my life be without Sage?' everything else would be dull by comparison. I'm not saying that to blow smoke. This [my wife Sage] is the gift of my life." The impact that Sage Robbins has had on Tony's life is so immense that it cannot be described in words. Sage deserves credit for strengthening Anthony and being a pillar of support for him. Her role in the life of Anthony goes un-noticed but she is the one reason, behind the scenes, that had such a positive impact on Tony which in turn allowed him to successfully change people's lives for good, for such a long period of time. Tony himself claims that his wife completes him and gives him the positive vibes as well as energy to go out and help people. He says: "I feel like this is where [being in the company of Sage] I fill up so I can go rip open the moment for every human [help out people] I can meet who wants it."
In another instance, Tony also said, "There's nothing I would trade on this earth for the relationship I have with Sage, my wife. I thank God because she is the greatest gift He's given me… It wasn't my prowess or luck that brought this beautiful soul into my life. It was my vulnerability and my willingness to ask questions that I didn't want to ask about myself. It's my decision to dive deeply into myself that's given me this gift." This shows how much he values his relationship with Sage.
Here lies a very valuable lesson for people who think that they can go through life without a partner or a partner that they are not compatible with. If Tony, being a master-mind, famous, and well to do person needs someone alongside him, then you do too. Don't stay in the poisonous relationships which are not mutually beneficial for you and your companion for too long. Ask yourself the tough questions from time to time and if you are not happy then flee from the trap. Live your life to the fullest. You deserve someone whom you love and who loves you back. By having the right partner alongside you, not only will succeed in your personal and professional life as well. You will begin to notice your mental capacity expanding, your mind, as well as body, will be at peace, and you will be a better more ambitious person.
Priceless Relationship Advice from Tony and Sage Robbins
Tony Robbins and wife highlight that you don't need a foolproof well-defined strategy to find someone you love. All you need is a belief system where you don't limit yourself. They assert that you must not think negatively and never approach relationships with pre-conceived thoughts as well as doubts. Don't be uptight and don't worry too much. Just go on and hang out with people. You have got nothing to lose. Be your usual self and don't pretend.
They say that by creating the rules in their relationships people limit themselves. Instead of being in love, they start to stress about petty things. Hence, let go of the rules, the fewer they are, the higher your chances of having a richer as well as a more satisfying relationship.
Tony and Sage point out that first and foremost comes the stability and excitement in the relationship with one's spouse. It's very important to be happy in the intimate relationship that you have with your wife. You must support each other, not just on difficult days but throughout your journey. You must cherish and appreciate your relationship regularly. Go out not just on weekend dates but to places you have never been to. It will re-ignite your passion for each other and help you re-discover one another again, away from all your daily hectic routines.
According to Mr. and Mrs. Robbins, any couple can avoid creating tensions among themselves by talking it out. Instead of bottling up and thinking that whatever you have got to say is irrelevant, you must just say it out loud to your partner. Don't assume that your partner can read your mind. Communication is the key to a long and healthy relationship and it is the most effective way of eliminating stress before it even builds up.
In order to ensure that your relationship flourishes, you must think not about just yourself but more importantly about your partner. In addition to this, they recommend that you go to whatever lengths that you have to in order to completely understand your partner. Only by knowing them inside out can you both live happily hereafter. Moreover, they accentuate on being truthful and sincere in a relationship. By just connecting with your partner you can sustain your relationship and take it to the next level. Forgive and forget the mistakes of one another to cultivate a mutually beneficial relationship. Finally, they emphasize on giving one's partner unconditional love as well as compassion, freedom to harness what life offers them, and attention whenever they need it.
If you wanna have some more dose of motivation through Tony's content, join Anthony Robbins WhatsApp Fans Group.
Fahad Aslam Khokhar is a freelance writer and trainer. Besides Ashraf Chaudhry Blog, he write for several business blogs as well. You can join him at Facebook.