How to Start a Conference Call on WhatsApp
Have you encountered such a situation where you need to coordinate a group of people for arranging a party, outing, and discussion over certain topic.
Maybe you need to summon a meeting without leaving and going anywhere and you are in a position where you can't manage to get everyone. I am certain it would be daunting to bring all on the same page.
Conference Call on WhatsApp is the solutions.
So far, WhatsApp, the enormously popular messaging and Voice over IP service owned by Facebook, is a cross-platform, free instant messaging subscription service for smartphones and allows users to send text messages, voice calls, recorded voice messages, video calls, images, documents, and user location.
The updated version of WhatsApp is rolling out to back us all by providing the facility of connecting 4 people on the same call. Given that the consequences faced by the WhatsApp users of not being able to initiate the call with multiple people simultaneously, can be seen in the form of exhaustion and distress.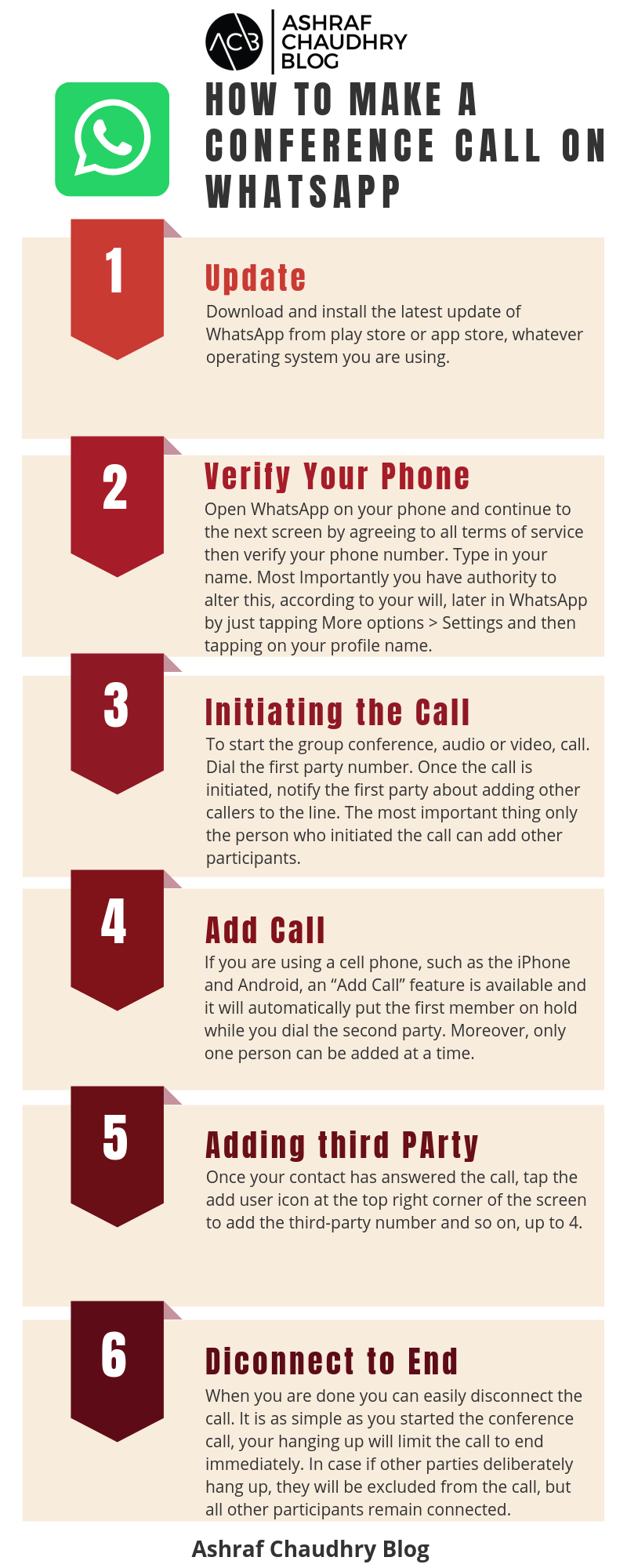 Prerequisites of making Conference Call on WhatsApp:
WhatsApp suggests all members have a good internet connection before making any call as the quality of the call is directly proportional to the speed of the internet. Your call would be carried out smoothly and without distortion, if you have high-speed internet.
In an updated version, you can browse the group number if which you want to call, and tap on the phone icon at the top-right corner of the screen to get started. From the next screen, you can tap the contacts within the group you want to call, then tap the voice or video button — depending on what type of call you want to make. It supports calling up to four people.
Steps to make Conference Call on WhatsApp:
Here is a step by step walk-through to initiate the WhatsApp call conference that will help you to make your conference call more flourishing.
Step 1:
Download and install the latest update of WhatsApp from play store or app store, whatever operating system you are using.
Step 2:
Open WhatsApp on your phone and continue to the next screen by agreeing to all terms of service then verify your phone number. Type in your name. Most Importantly you have authority to alter this, according to your will, later in WhatsApp by just tapping More options > Settings and then tapping on your profile name.
Step 3:
To start the group conference, audio or video, call. Dial the first party number. Once the call is initiated, notify the first party about adding other callers to the line. The most important thing only the person who initiated the call can add other participants.
Step 4:
If you are using a cell phone, such as the iPhone and Android, an "Add Call" feature is available and it will automatically put the first member on hold while you dial the second party. Moreover, only one person can be added at a time.
Step 5:
Once your contact has answered the call, tap the add user icon at the top right corner of the screen to add the third-party number and so on, up to 4.
Step 6:
When you are done you can easily disconnect the call. It is as simple as you started the conference call, your hanging up will limit the call to end immediately. In case if other parties deliberately hang up, they will be excluded from the call, but all other participants remain connected.
By using this simple way, you can easily get your callers into the conference whom you know via WhatsApp. You will have a complete hold over the conversations, as you can add people, mute others and share files or receive files. Group calls are end-to-end encrypted and available in the Android and iOS versions of the app. According to the latest statistics, 65 billion WhatsApp messages sent per day or 29 million per minute and app users spend over 2 billion minutes on calls.
How Conference Call on WhatsApp is better than other options:
WhatsApp, a messaging app for smartphones created by two former Yahoo employees, Brian Acton, and Jan Koum was rolled out in 2009 subsiding the popular video calling app "skype" and excelled for its voice and video calling. Unlike skype, which was limited to Personal Computers and made a late entry into mobile phones, primary platform used by the WhatsApp is smartphones. With WhatsApp, you can send countless messages to other WhatsApp users without being worried about word count and multimedia. Hence it enables a person to save a lot of money which earlier was spent on SMS and video calling. Moreover, WhatsApp identifies users by their mobile numbers, which means if you have someone's number in your contact it will automatically appear in your WhatsApp contacts. The Icing on the cake is WhatsApp doesn't impose any kind of ads to its users, providing a seamless experience.