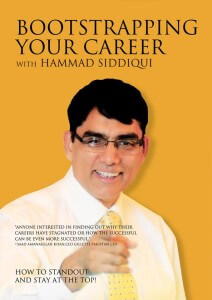 Hammad Siddiqui's book Bootstrapping Your Career has hit the Pakistani book stores. It was much awaited.
A few people know the background of Hammad. He is a graduate of "peela school" ( a term used for government schools in Karachi with no facilities) and now he is a certified chamber management specialist from Institute of Organization Management, Washington DC, USA. He started his career as a laborer with a food caterer and is now Deputy Country Head with CIPE, an affiliate institution of US Chamber of Commerce. He is a true son of the soil and I am privileged to be his friend since early 2009. We became friends through a spam email.
Bootstrapping Your Career is not a 'bookish' book. Rather it is a gist of his experiences. I extremely recommend this book to all those professionals who have the passion to rise above mediocrity. There are 10 reasons every career seeker must read, absorb and apply the contents of Bootstrapping Your Career.
The book is authored by someone who has risen from lowly position in life to an esteemed position with an international organization. This book is the set of principles how he navigated his life.
Bootstrapping Your Career is a practical toolkit. Every tool is worth executing. The book is far from complex theories.
Easy to read and relate. It is a book of career stories and anecdotes.
Want to multiply your net worth? Go and network. You will find principles and success stories of networking here.
Resume is your marketing brochure and Cover Letter is your sales letter. Never underestimate the power of professionally crafted resume. You will find enough guidelines on how to craft a professional CV/resume.
Your interview is just like your sales call or one-to-one combat. Want to learn tricks of effective interviews? Read the book.
How to leverage the power of social media to find job, build your brand and scale up your career? You will find real life stories.
Want to "fire-proof" your career? Be linchpin. Read chapter 6 of Bootstrapping Your Career.
Suffering from Career Stagnation Syndrome? Read chapter 7 to cure the career stagnation.
Last but not the least, it is your career. Invest Rs. 500/- on your own development. This is simply a peanut as compared to enormous wealth of knowledge.
I know author personally. He is humble and reachable. You can get connected with him and seek his mentorship. He travels a lot in Pakistan and abroad. Follow him on social media and grab him someday on a cup of coffee. Rest assured he will never allow you to pay for the coffee!!
How to buy? Simply place your order here. Book will be delivered at your doorsteps.
Did you read my article?