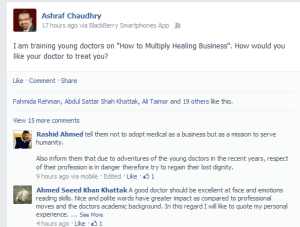 Yesterday, I put a question on my facebook account that how would you like your doctor treat you. There are many responses to my question. One of my facebook friends, Ahmed Saeed Khan Khattak, elaborated story of his flowing ears. I thought to preserve that story for people around the globe. This is how the story goes…….
"A good doctor should be excellent at face and emotions reading skills. Nice and polite words have greater impact as compared to professional competence and  doctor's academic background. In this regard I will like to quote my personal experience.
My ear drum was perforated from my childhood and puss discharge was a main problem with that ear, during rainy seasons specially. My elder brother who is in army took appointment from a classified surgeon at nearby CMH. When we entered his clinic he just checked out my ear and directly said ….sorry it cannot be treated with medicines, you need operation, you  just have to come tomorrow evening without eating or taking any fluid since morning. I just got up totally perplexed specially with the tone in which he uttered the words. My brother was also bewildered with the doctor statement. However, I just refused to be operated by that doctor. After few days we went to Peshawar CMH, there we met ENT classified surgeon (then) Lt.Col Ashfaq. He examined my ear for few moments and during check up he asked about my education, likes for games and also my sub tribe (Khattak). He assured me that he would try his level best to patch up the ear drum through medicines. During next few weeks he checked my ear and even performed medical tests, however after a month the puss discharge started once again and this time with blood as well. My whole family got worried however on next day Lt.Col  Ashfaq cleaned up my ear and checked it. During the check up he once again started the discussion about the Pushtoons and various tribes. I numerated him the stories of bravery and courage of Khattak tribes etc. After hearing me he just replied….. yes of course Pushtoons are brave & also told me a story of a pushtoon soldier who had got a bullet in his neck but was not going to be taken on stature to Operation Theater. His words were certainly making me proud….. then he inquired in a friendly way, "If you want to get rid of these medicines let me do a small operation and fix that problem at once and for ever." I just uttered ….what about the pain.He said you will get zero pain. On the same day you will walk in that lawn (pointed out of his clinic window) with full pride and after a week you will be able to rejoin your cricket team and month later start even swimming, then once again he started asking about Pushtoon tribe. At the same moments I was thinking if  I just refused such a nice and good doctor, his perception may change about what I said earlier about Pushtoons. So I accorded ……and on the next day he operated me. Although pain was not zero percent but by grace of Allah within 2 to 3 days, I returned back to home and that too fit after successful "Tympanoplasty". Since 30th June 1998 till today, I am fit and have never felt the reccurence of that problem. Now I have heard that Dr. Ashfaq  has elevated to 3 star general. May Allah bless him with success and good luck. (Aameen)
So I think it was his magical words, tone & behavior that did more than medicines and his surgical expertise…as at first instance that got me ready to go for that operation."
Did you like the post? Please share on your networking sites. To join me on social networking sites, click here.
You might be interested to go through a small presentation on Guerrilla CV.