Looking for Job? How to Kick Away the Barriers?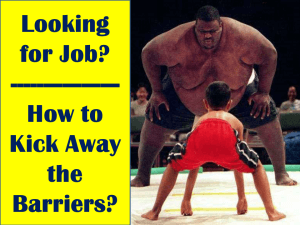 As a recruiter and head hunter, it is my observation that more than 200 CVs are received for one position within 24 hours of posting that job on Facebook and LinkedIn.
Recruiters' dilemma is that they cannot invite 200 job applicants for the interview. They only invite 5-6 people. How do they select 5-6 people? Purely, on the basis of CV. If you are not getting interview calls, then try to accept this fact that your CV is the biggest job barrier. CVs with the following traits are sent to recycle bins immediately.
Irrelevant CVs
CVs with grammatical and typo errors
CVs with cluttered content
CVs with no 'selling' words
CVs without aesthetic sense
CV writing is a great skill. You need passion and ingenuity to master this skill. CV is the most important document in The Craft of Selling "YOURSELF". The best thing is to learn this art. Read books on CV writing and attend training workshops. The next best thing is to hire services of professional content writers to write CV for you.
"CV.That.Sells" is our latest service helping job seekers to craft a compelling and killer CV that out-kicks all the barriers in its way to interview table. Our professional content writers craft your CV under my direct supervision.
To know about our procedure and package details, please send us your current CV at ac@AshrafChaudhry.com.
Get connected with Ashraf Chaudhry on social networking sites for regular job alerts by clicking at http://xeeme.com/AshrafChaudhry
——————————————————————————–—————————-
Zara Sochiye video

by Geo TV Networks on Ashraf Chaudhry has inspired millions of people around the world. Did you watch it?
————————————————————————————————————-